See my full review on Civil Eats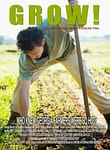 After more than two decades in decline, young farmers are beginning to sprout up across the nation. The recent documentary GROW!, directed by Christine Anthony and Owen Masterson, showcases the resurgence of young organic farmers in the state of Georgia. The film highlights 20 individuals across 12 farms who have found their way back to the land, whether working on a family-owned farm, buying their own, or, in most cases, using another farmer's land to grow food for their community.
GROW! is a story that does not seek to convince the moviegoer of any particular viewpoint, but instead offers the opportunity to understand a new generation of farmer and why they seek to live a lifestyle removed from the hustle and bustle of the corporate world. "It's a beautiful story and we wanted these young farmers to tell it in their own words; no narrator, no scientific experts, no hand wringing gloom and doom, just an honest, on the ground account of a movement taking place at this very moment in time," said directors Anthony and Masterson.
… Read more here.