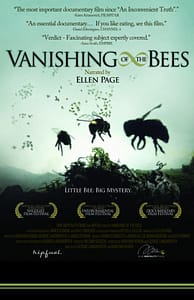 Four years ago, the United States government held the first congressional hearing on Colony Collapse Disorder (CCD), an as yet unknown affliction responsible for the devastating and sudden losses of native honeybees, which mysteriously disappear and never return to their hives. While the news has been relatively silent on CCD the past couple of years, there's been a resurgence of other media around this phenomenon, including "Vanishing of the Bees," a documentary film directed by George Langworthy and Maryam Heinen and narrated by actress Ellen Page ("Inception" and "Juno").
"Vanishing of the Bees" brings awareness to the ongoing struggle faced by the bees and their keepers, delving deeply into Colony Collapse Disorder, its potential causes and what the bees' disappearance might be telling us.  The film opens with storybook charm on our beloved protagonist, the bee, as it flies from flower to flower in search of pollen and nectar. The cuteness-factor quickly turns heart-wrenching and real as the film spells out the situation in no uncertain terms. If the bees disappear, much of our food supply goes with them, as does the $15 billion dollar a year industry built up around these industrious pollinators.
But that industry may just be part of the problem…
To read my full review on Civil Eats, go here.